Johnstone History Museum
Johnstone History Society • Scotland
| | | |
| --- | --- | --- |
| | 20th Century Miscellany | June 11, 2020 |
Stories of Quarry Street Police Station
The old police station in Collier Street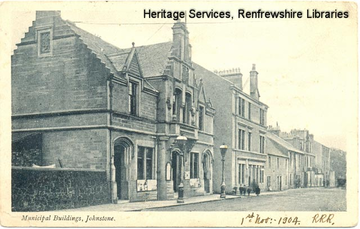 The following appeared in the Paisley and Renfrewshire Gazette, Friday, November 20th,1959, Page 5 under the heading "New Police Station ready in the Spring" - The new Police Station at Quarry Street, Johnstone is expected to be completed by April 1960. The building, costing in the region of £28,000 will have accommodation for officers, sergeants and constables......
Open it did at a brief ceremony held on Wednesday afternoon, 15th June 1960, as mentioned in the Johnstone Advertiser, Fri., 17 June 1960.
The original police station and Court Hall in Collier Street, the foundation stone of which was laid in the Queen's Jubilee year of 1887, and opened in 1888, with a cake and wine banquet at the Court Hall, had outserved its  usefulness, the old police station becoming the Burgh rent office.
It had been intended to build the new police station at Quarry Street with two floors, the upper floor being a new Police Court. In the end, when built, it had a ground floor only.
The Burgh Court Hall in Collier Street continued to be used for the Monday morning Police Court, the police retaining the keys for both the court and the holding cell downstairs at the rear of the rent office.
Johnstone was part of Renfrew and Bute Constabulary, providing 24 hour coverage, with a 4 pattern shift system, covering the town as well as outlying areas, including Linwood, Elderslie, Howwood, Lochwinnoch, Kilbarchan, Brookfield, Bridge of Weir, Houston and Crosslee.
The Chief Constable was Robert S. Allan, the Force HQ being located at the County Buildings, Love Street, Paisley. The Constables and Sergeants wore chrome Prince of Wales's feather badges with the motto 'Ich Dien' on their shoulder straps above their numerals. The force appears to have been quite innovative. A press report dated 16 Sept. 1964 states that it was the first force in Scotland to employ police cadets, and the first County Force to recruit policewomen and police dogs.
The new station in Johnstone came equipped with cells, charge bar, rooms for senior officers, CID, Sergeants, Muster Room, Report Writing Room, Canteen, Typists Room, Uniform Bar with public counter, production store, communications room with switchboard and Telex machine, a Cleaners Room which doubled up as a fingerprinting room.
In the rear yard was a garage and cycle shed for Police bicycles, as well as a store for keeping archived books and recovered stolen metal etc., as well as a pound for stray dogs. In those days police phone boxes were located throughout the town for both police and civilian use. These were removed to be replaced later by the invention of police pocket radios. Black Morris J2 vans, known as "Black Marias" were used to convey personnel and prisoners as well as attending calls.
On 16th August 1967 the Burgh Forces of Paisley and Greenock combined with the County Force, retaining the name Renfrew and Bute Constabulary, under the new Chief Constable David Williamson.
The force comprised 3 Divisions -
A - Greenock, Port Glasgow, Gourock, Inverkip, Kilmalcolm,and the islands of Bute, Arran and Cumbrae (Millport).
B - Paisley, Renfrew, Ralston, Inchinnan, Erskine, Bishopton and Langbank.
C - Johnstone and surrounding district already mentioned, being known as the Western Sub-Division, the Eastern Sub-Division being Giffnock, Barrhead, Thornliebank, Newton Mearns, Eaglesham, Busby, Neilston and Uplawmoor.
New crests in the shape of a shield with the County of Renfrew and Bute coat of arms, surmounted by a thistle, were worn on the shoulder straps above the numerals by Constables and Sergeants.
The Divisional HQ for C Division at this time was located in Giffnock, later moving to Barrhead. Under David Williamson the force adopted the systems of Beat Policing, Conventional and Unit Beat. He introduced Hillman Imp Panda cars, personal communication being the Pye pocket phone two piece radio, a big advance from the police whistle still in use, and VHS radio for the cars. Johnstone office had a radio for the pocket phone in the Uniform Bar which could also be operated remotely from the Divisional Control Room at Robertson Street, Barrhead, which became a police social club in 1974, the control room being relocated to Barrhead police office. VHS radio had been operated from Force HQ which in late 1969 moved from Love Street to Mill Street, Paisley.
Johnstone's Sub Divisional Officer at this time was Chief Inspector James Bradford Smith. Known as "JB" he was popular with his men. His two Inspectors were Thomas Guy, who liked singing and played the piano, and Dugald MacDonald. Their number was augmented by the arrival of Inspector Jack Crisp, appointed to lead the Community Project at Linwood with his Sergeant Alex Smith. JB authorised the sale of the police bicycles to the public in 1971. After he retired he got a job as a rent collector behind the desk of the former police station, now the Burgh Rent Office in Collier Street.
Mention must be made of three long serving "characters" well known in Johnstone,all WW2 veterans, PC Mitchell Burns, who served in the Commandos, PC Alex McEwan, known as "Burma Joe", an ex Argyll who was a Jap POW, who helped build the infamous Burma railway, and Alex Kennedy, who served in the Merchant Navy. They were numbered consecutively 292, 293 and 294.
One other man worth mentioning was the Civilian Custodier Hugh Munro, a retired policeman, who was responsible for found property, productions and warrants. Hugh also had the task of going with the Town Centre Beat policeman to open up the Burgh Court on Monday mornings, then acted as police clerk, recording sentences etc, while the police officer escorted the prisoners from the dock after sentence to the holding cell below.
Hugh provided another service to the "down and outs" and the less fortunate , by keeping a box of found dentures for them to try and get a "fit", if they'd lost theirs. He also had a box of found spectacles for those who lost theirs also. Using the racing section of his newspaper which he held up as an "eye chart" for them to look at whilst they tried them on to find a suitable pair.
As part of C Division, Johnstone Town Centre was known as Conventional Beat 9 with the pocket-radio call sign "Candy 9."
Mention must be made of the Force Training Centre located in Laighcartside Street, Johnstone, within the former Civil Defence HQ (now Gordon McMaster Gardens).  Probationer Constables and Cadets from all over the Force area, including Johnstone, received training there, the centre being run by the now Chief Inspector Thomas Guy and his two Sergeants George Weir and Alexander Munro Campbell. Known as "Rover", Alex Campbell had served as a Pilot Officer in the RAF during WW2, as a member of a Pathfinder Squadron. He used to tell his students that on his wedding night, his comrades put a notice on his bedroom door which said "May your path be straight and your aim be true." At lunchtime students were given meal vouchers for the Rankine Restaurant. Glasgow Airport Police Force had an arrangement where their new recruits received training at the centre but were not required to sit any of the exams.
In 1972 an extension of a second floor was built at Johnstone Police Office. Senior officers were relocated upstairs as well as the typists. The CID moved out of their room to that formerly used by the typists. The former CID Room then became the Police Surgeons Room, being used by Dr. George Robert McOwan, of Northpark, Lowndes St., Barrhead, the first to use it.
In addition the new extension provided room for a police social club, selling alcohol to full and associate members,as well as a games room.
The coping stones around the edge of the roof were removed to allow construction to begin. The Divisional Commander James Ferrie, who resided in Linn Park Gardens, "borrowed" a police personnel carrier and a number of uniform policemen who were on duty, to transport and lay out the stones in his driveway. They are still there to this day, the present owner being unaware of their origin.
School Crossing Patrollers and Traffic Wardens (first introduced 1972) were managed and run by the police from the office. One of the first two traffic wardens to be employed was Guy Kerrigan, the other I think was Jimmy Hill.
A well known School Crossing Patroller to be employed was Andy Smith, the former manager of the late boxing champion Benny Lynch.
In April 1975 new Barathea uniforms with belts and white shirts (trialled in A Division since 1974) were brought in to replace the serge uniforms and blue shirts of the Constables and Sergeants. The same month Glasgow Airport Police amalgamated with Renfrew and Bute Constabulary, being part of B Division, Paisley.
Another point worth mentioning is that during the Cold War the police were responsible for Civil Defence in the event of a nuclear war, and it was their job to sound the sirens when an attack was imminent. Central to this operation was the location of a Carrier Control Point (WB400) at Johnstone Police Office, manned by Uniform Bar Staff, which covered the town and surrounding district.
The equipment used was as follows -
A wall-mounted operating unit facing opposite the telephone switchboard (WB401) in the communications room, which had two Handel "X" and "Y" fawn coloured phones to the left with red flashing lights above for incoming messages. On picking them up the speaking clock was heard. A central panel (WB600) had three illuminated siren buttons - "Attack Warning," "Stop," and "All Clear, " and a test button with a siren lock switch.
There was a black phone to the right with 2 white flashing lights above and below, giving direct contact with ROC Ayr Group (Royal Observer Corps).
Sitting on a desk between the switchboard and the WB401 unit, was the operating unit (WB400A) with a microphone and 3 keys: a) for broadcasting the attack warning, b) speak, and c) call, to inform the outlying personnel to turn the sirens on. A circular meter indicated the correct volume. The microphone when not in use was stored in a small compartment on the right side of the unit with a drop down door.
A WB400 Carrier Receiver Unit was located in the Uniform Bar on top of a metal cabinet used for found property, operated by a 6 volt battery, when switched on, ticked like a clock, on which messages were received from the WB400A Operating Unit , including the Attack Warning.
Others were located elsewhere in outlying stations and buildings where sirens were located, so the warning message could be heard when manned, and action taken to turn on the sirens.
Every six months the equipment was tested , using the broadcast system, and the sirens given a silent lamp test, to ensure they lit up and extinguished afterwards.
The message used during the tests was as follows -
"(Monitor Tone) Pip-Pip, Pip-Pip, Pip-Pip. This is Johnstone Carrier Control Point making a routine test broadcast. You are now to hear a short test of the Warning Signal.

(Warning Signal) Wow -Wow- Wow- Wow.

Now please take your question form and enter the word ..............(codeword, names of flowers sometimes used) at item number four.

Please complete the form and forward it to the Chief Constable of your District today. Thank you.
(Monitor Tone) Tick - Tick - Tick - Tick."
The siren at Johnstone had been located at the Fire Station at the Thorn. During one such silent test there was a short circuit and the siren activated, raising plenty of eyebrows in the town until it was shut down and eventually repaired.
On Friday, 16th May 1975, due to Local Government reform, Renfrew and Bute Constabulary was merged into Strathclyde Police, the Chief Constable of the new force being Sir David NcNee (formerly of City of Glasgow Police), based at Force HQ, 173 Pitt Street, Glasgow.
The merger saw the closure of the Police Training Centre at Laighcartside Street, Johnstone, Local Training being transferred to Oxford Street, Glasgow. There was a two tier system of Local Government, Strathclyde Regional Council being responsible for the police and fire service, Renfrew District Council for more local matters, and it marked the end of Johnstone Town Council. The Burgh Court Hall at Collier Street closed its doors for the last time on Monday, 12th May 1975, being replaced by the new Renfrew District Court on regionalisation, at the now former Renfrew and Bute HQ, now known as Area 2, in Mill Street, Paisley.
As of 16 May Johnstone became part of J Division, Strathclyde Police, and J Division numerals were worn by the Sergeants and Constables. With the changes Johnstone became JC Sub-Division, and came under the command of a Superintendent , as well as the Chief Insoector, with the addition of extra inspectors, one for each of the four shifts. One of those was the newly promoted Inspector Alexander Munro Campbell. The first superintendent was Hugh McMillan who later became Chief Constable of Northern Constabulary. The Linwood Community Involvement Project continued under command of the newly promoted Inspector George Weir.
Also civilian telephonists/bar assistants were employed. The Johnstone Town Centre Beat was now known as Juliet 9 , being changed to Beat Uniform on 23 Nov. 1975.
The Chief Constable Sir David McNee was against police social clubs within police offices and the one at Johnstone office was closed down.
Towards the end of November 1976 J Division was broken up and ceased to function as a Division. Eastwood became part of G Division, whose HQ was is Govan. The Johnstone Sub-Division (JC) together with Barrhead, Neilston  and Uplawmoor, became part of K Division, Paisley, Johnstone becoming known as KD Sub-Division and K Div. numerals were issued to the Constables and Sergeants. In the latter half of 1977 it changed again, Johnstone becoming KB Sub-Division. Under the changes Johnstone Town Centre Beat became known as Beat 35.
The tragic death of Constable Lewis Fulton, A Division, Glasgow, who was brutally murdered on 17 June 1994 , resulted in a radical change in uniform and police equipment, and in response, NATO 'V' neck sweaters were issued force-wide along with utility belts, PR24 expandable batons, and rigid 'quick-cuffs' later the same year. These changes also saw the introduction of Sympatex, later Goretex short raincoats and yellow fluorescent jackets.
Strathclyde Regional Council proved too unwieldy and was eventually stood down to be replaced by new local councils. Renfrewshire Council replaced Renfrew District Council on 1st April 1996, in a one tier system again, Strathclyde Police still remained as a single body despite the changes. In July 1997 the Barrhead section of K Division was transferred to G Division.
In October the same year trials were conducted regarding the use of CS spray, training being carried out until 2001 when its use was rolled out across the force.
On Tuesday, 1st September 1998 KC Sub-Division, Renfrew and KB Sub-Division, Johnstone merged, becoming KB Sub-Division, which included the Glasgow Airport section. Langbank was moved under the control of Johnstone for a period.
K and X Division (Inverclyde) merged on 1st May 1999, the new division remaining as K Division, which included Johnstone, the Divisional HQ remaining at Paisley. Johnstone together with Renfrew remained in KB Sub-Division in the new set up.
In 2001 stab-proof vests were introduced. A trial uniform was tried out in K Division in February 2002, a light blue shirt being worn with or without a tie, the body armour worn on top. The uniform proved unpopular and was changed again. In 2003 black short sleeved T shirts replaced the shirts, fleeces and "cargo" style trousers with side pockets being issued, the trousers resuming normal style without the side pockets in 2008.
This remained much the same position when on 1st April 2013 the SNP backed Scottish Government created a national police force, Police Scotland, amalgamating the existing police forces in Scotland.
K Division remained as one of the Divisions in the new force, covering a Renfrewshire and Inverclyde, Johnstone still being part of KB Sub-Division which included Renfrew and the villages. In a cost cutting exercise Police Scotland announced on 5th Oct 2014 that they were changing the use of CS gas to PAVD, a form of pepper spray.
There had been closures of the offices in Bridge of Weir, Kilbarchan, Howwood, Houston and Elderslie before the creation of the new force. These were to continue on a larger scale. Erskine office, for example, covered Bishopton, Bridge of Weir, Langbank, Erskine and Inchinnan,in the new force, stopped its counter service in 2014, and officially closed in 2017.  It was the same for Lochwinnoch and Linwood offices.
On 27th May 2016 Renfrewshire and Inverclyde Police Division (K), Police Scotland reported -
"Johnstone Police Office Moves To Johnstone Town Hall"
Johnstone Police Office in Quarry Street will close its door to the public on Friday, 27 May 2016. On Tuesday, 31 May 2016 Local Community Officers will re-locate to the new shared accommodation within Johnstone Town Hall where a part-time public bar open Mon. - Fri.  9 - 5,  closed daily 12.30 - 1.30 for lunch is located.
Chief Inspector Simon Wright, Area Commander for Johnstone and Renfrew said that his "response police officers continue to be based and deploy from our existing premises in Quarry Street." This was short lived, the office closing down completely soon after, that year, officers working out of the police station at Renfrew (opened Friday,1st June 2012, to replace the original office built in 1910) as well as Johnstone Town Hall.
It remains to be seen whether or not the service will improve as a result of these changes. Time will tell.