Johnstone History Museum
Johnstone History Society • Scotland
| | | |
| --- | --- | --- |
| | World War II | January 8, 2018 |
Identity of German POW Artist Revealed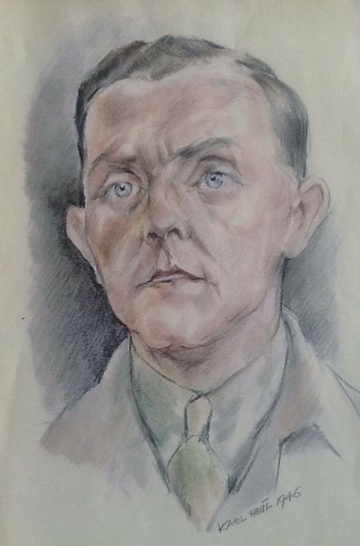 During the summer of 1970 my husband visited Craigends House, by Johnstone prior to its demolition. It was still an impressive building despite its derelict state. During WW2 the house and grounds had been taken over by the military and a camp built near the house. The derelict garage still had its original doors painted with with Guard Room and ATS Room there on. Close by was a building which had been a former indoor tennis court and used as a mess hall by the military. Its interior walls were painted with murals of scantily clad females of Grecian style. My husband was advised that these had been painted by a German POW from Johnstone Castle Camp, and he had done the same thing there at the stable and garage buildings.

The camp and house at Craigends had been used by No 10 Armoured Fighting Vehicles, Royal Army Ordnance Corps who in conjunction with their depot at Georgetown were responsible for the repair of battle damaged tanks, those unfit for repair being melted down at Parkhead Forge. The unit was still in existence there after the war and Elizabeth, the Princess Royal visited the Depot at Georgetown and the ATS quarters at Craigends House on 27th Sept. 1946.

A newspaper search revealed the identity of the German POW artist. The Johnstone Advertiser, Friday, 5th May 1961:

Sixteen years ago Karl Heil of Germany was spending an enforced holiday in Johnstone as the no doubt reluctant guest of the British Army. Wearing the denims and distinctive patches of a Prisoner of War, Herr Heil, in common with many others of his countrymen was billeted in the camp on a site now included in the Johnstone Castle scheme.

It happened that Herr Heil was not only a soldier but an artist of some considerable ability and this fact soon came to the ears of a local British army unit. This unit occupied buildings on the Craigends Estate, and as a mess hall they were using the covered tennis court, which is a substantial and permanent building. Aware of the POWs talent they asked him to paint and decorate the four walls with mural paintings. He agreed and was driven out to Craigends to create a work of art which has astonished visitors to the Estate.

When he was repatriated to Germany Karl Heil obtained employment with the Volkswagen motor company in Wolfsburg, becoming the Deputy Director of Public Relations for the firm. He organised an art exhibition which entailed a visit to Glasgow Art Galleries. This gave him an opportunity to visit Johnstone and see if his art work was still there. The camp had gone and he couldn't find his way to Craigends. He went to the Johnstone Advertiser who with the help of Mr Cunningham of Craigends, he saw the murals again, and it was arranged that they be photographed in colour and black and white and sent on to Herr Heil in Germany.
Members may post a comment.