Johnstone History Museum
Johnstone History Society • Scotland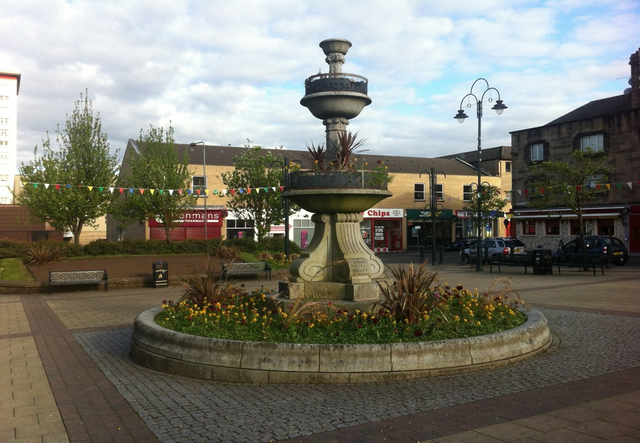 Presented to Johnstone By Dr Archibald Neilson a native of the Town
Item ID: 9506
Archibald Neilson and the Playing Fountain

Archibald Neilson was born in Johnstone into a poor family. While still a small boy, his parents decided to move to Glasgow where he was apprenticed as a grocers assistant. Early on he decided to become a man with a profession rather than a trade.

After burning the midnight oil he eventually qualified as a medical practitioner at the University of Glasgow. He spent his whole life in practice among the working class in the East end of Glasgow.

Each year he spent a month on holiday in the sunshine countries of Europe, and it was here that he found the health benefits to be had from sitting in sunshine watching the water sparkling over a playing fountain.

Later in life, rather than have a memorial erected in a graveyard to his memory, he decided he would have a playing fountain instead, installed in Johnstone, for the benefit of the public.

An invite was extended to ex Provost Lang of Johnstone to visit Dr Neilson to have him explain his wish to give a fountain to the town, (not to be a drinking fountain that could spread infections). On agreement with ex Provost Lang, a sum of £600 was handed over to be invested in Government stocks, which on reaching £1,000 or in ten years' time, was to be used to erect a suitable fountain.

On Saturday 11th November 1933, a damp and dreich day, the new fountain was inaugurated, Provost Runciman presiding.

The fountain was built of Creetown Granite, and erected by Mr Norman Keanie, a local builder. The water was turned on by Mrs W.B. Lang and the fountain was handed over to the town by ex-Provost Lang on behalf of the Trustees,

p.s.

1)In later years the pipe supplying water to the fountain corroded and was subject to ever more frequent bursts, and eventually closed off.

2)Information from Joe Reilly (Ex Town Councillor)
Just for interest, I tried to get the water working in the fountain but the cost was prohibitive and the person in charge of the parks suggested the flower baskets around it as an alternative.

3)From a Fraser Kelly. Seems logical. John Snow ( father of epidemiology and public health) tracked a cholera outbreak in the mid-1850s to a water well in Soho and ended it by stealing the handle to pump the water out when the authorities wouldn't act. It ended the epidemic overnight almost and proved water in wells and drinking fountains could spread diseases.
| | |
| --- | --- |
| Publisher: | Johnstone History Museum |
| Issue Date: | 18 Nov 2021 |