Johnstone History Museum
Johnstone History Society • Scotland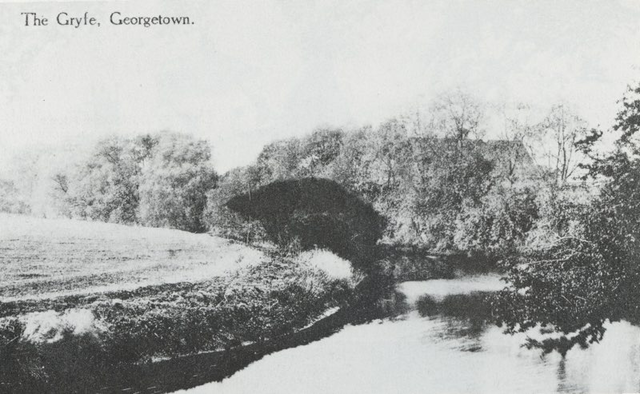 River Gryfe before development.
Item ID: 9509
An idyllic spot on the River Gryfe became the site of the Scottish Filling Factory No.4 Georgetown when it was officially opened in September, 1915, at the start of the First World War. Locally, it was known as Georgetown Munitions Factory, following a visit on Christmas Eve, 1915, by Mr David Lloyd George, Minister of Munitions and subsequently British Prime Minister.

The site occupied 250 acres of land at Fulwood, near Bishopton, just north of what is now Georgetown Road, close to the junction with Moss Road leading towards Linwood. Originally, there was another railway station less than a mile further south. This was known as Houston and lay just over three miles east of Houston which was predominantly a rural community in these days. This dated from March 29, 1841, and was constructed by Glasgow, Paisley and Greenock Railway Company. More prosaically, the area was used by the Glasgow Corporation as rubbish dump although all that changed with the outbreak of the First World War and the outbreak of hostilities on August 4, 1914, and the necessity for an ammunition factory on Clydeside to fill explosive shells for use on the battlefields of Belgium, France and the Middle East. The earlier 19th century station was renamed Georgetown in 1926 following the 1923 regrouping of the London, Scottish and Midland Railway who took over the line from the Caledonian Railway Company.

The Filling factory at Georgetown employed over 4600 workers in July, 1916, rising to around 12,000 between December, 1916, and August, 1917. The wartime railway station was sold in 1920 at the end of the war while the original one at Houston (Georgetown) was closed on February 2, 1959.