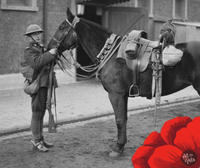 Great new Article by Angela Gillespie on Johnstone Horses sent to serve in WW1
Johnstone WWI Role of Honour
We've recently received a copy of the Johnstone Role of Honour from World War I. We plan to add an album with biographies for as many as possible; details on that procedure will be announced on these pages.
UPDATE 7 March 2019: We have updated our World War 1 Role of Honour list that you will find at the page linked below.
This would be a good time register as a member of the website. If you are a regular member of the History Society, we will also be linking the two member lists, and an announcement of that procedure is also forthcoming.
If your ancestor or relative appears on the list or if you know of another person who should be included, we would be pleased to receive a photograph, a descriptive comment or biography and suitable documentation to accompany this research. Please use the contact form to submit information.
The base list was compiled by the late John Kenny J.P. who was a Committee Member of the Johnstone History Society. It is reproduced here by kind permission of his widow Mrs Agnes Kenny.
Munitions Factory Johnstone's Contribution to the WWI Effort

With this article we introduce a new feature of the website. This summary of a photo essay by Stewart Michie in the Gallery (link below) is accompanied by images of the WWW factory that put Johnstone solidly into the war effort.)
Georgetown Munitions Factory opened in September, 1915, at the start of the First World War, just over three miles east of Houston in what was then predominantly a rural community with plans to fill explosive shells for use on the battlefields of Belgium, France and the Middle East.
Delays could cost lives so it was imperative that the men who manned the artillery big guns had a ready supply of ammunition at their disposal to protect themselves and the infantry units.
A 2350 square foot town hall was erected, serving as a social center, church, Sunday school, lecture hall and more. The hall could seat 300 people. The building was an invaluable resource, especially in winter when the dark nights limited the range of human activities at a high-security site like Georgetown where vigilance could never be relaxed for safety and military reasons.