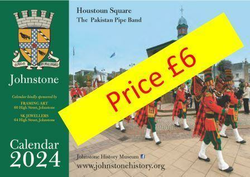 Our 2024 Calendar now on sale at the Museum and on our web site SHOP.
We are delighted that, this year, you can also purchase the Calendar at Framing Art, 60 High Street and at Quality Cards and Gifts, 2 Houstoun Square, both in Johnstone.
Thanks go to Framing Art and to SK Jewellers Johnstone for their kind donation towards the production costs of our Calendar.