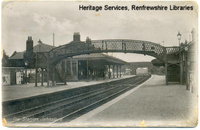 On 21st July 1840, Johnstone Station was opened by the Glasgow, Paisley, Kilmarnock and Ayr Railway. The station is rare in that it is just about the oldest station (1840)in Scotland that has its original Booking Office still incorporated within the handsome sandstone buildings. (Item submitted by Craig Crawford of Howwood.)
Happy 175th Birthday to Johnstone Station

On the 21st July 1840, Johnstone station was opened by the Glasgow, Paisley, Kilmarnock and Ayr Railway.

The station is rare in that is just about the oldest station (1840) in Scotland that has its Booking Office still incorporated within its handsome Sandstone buildings.

The Gales of 1968 seriously damaged the station canopies which provided passengers with a means of boarding their trains without getting wet. The railway management decided to have the canopies removed all together, rather than have them repaired. So now you have to dash from the Booking Hall or the little shelter.

There were two signal boxes. No 1 at the North end controlled a junction for the lines to Johnstone Gas Works and Greenock via Kilmacolm. No 2 at the South end controlled the goods yard and associated sidings.

The goods yard handled all sorts of traffic until rationalised in 1963 for a new lease of life to deal with the motor car traffic from the newly built Rootes Group Car Plant at Linwood. The Car Trains were initially formed of flat wagons which were converted from former carriages. More modern trains were introduced formed of double decked wagons. The trains were a quarter of a mile long and signalling alterations were necessary to enable the departing trains to be coupled up on the main line towards Elderslie. After the car traffic stopped with the closure of the Car Plant, there was a brief use of the sidings for a nightly departure of a train to Wisbech carrying Dog Food from the now Closed Spillers factory at Barrhead. On complete closure of the yard, some ground was given over to allow the building of the new Thorn School and the rest to form an enlarged car park the capacity of which is once again being increased.

With the withdrawal of Steam, Diesel trains started running in 1959, in turn to be replaced by electric trains in 1986. Today, the main passenger traffic, stopping at Johnstone, is between Ayr, Prestwick Airport and Glasgow Central Station. Some trains now continue via Glasgow Central Station to Edinburgh.

Johnstone was called Johnstone High for a time, to avoid confusion with Johnstone North Station. This was located in Napier Street near the present History Museum at Morrisons. Johnstone North started life as a terminal station opened in 1885. The line and the Station were rebuilt to a higher level when it became a through station on the Lochwinnoch Loop Line which opened in 1905. Johnstone North Station closed in 1955 and the Loop Line to passengers in 1966 when the Johnstone High Station reverted to its previous title of just Johnstone Station.