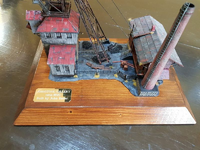 Thanks to John Butler, we now have our own Johnstone Coal Mine model. It now takes pride of place in one of our display cabinets.
The model is on a glass shelf of a three story display cabinet. We have challanged John to add to his coalhead mine display by adding a mine shaft or two, that can then been shown descending down to the level of the next shelf. We will then need some little miners, pit ponies to go with some pieces of Johnstone coal. Some have suggested that, on the shelf below that, we should have some water.
Flooding was always an issue with the Johnstone mines which were contantly subject to water ingress. See the Coal Mines and Quarries section of our Gallery section.