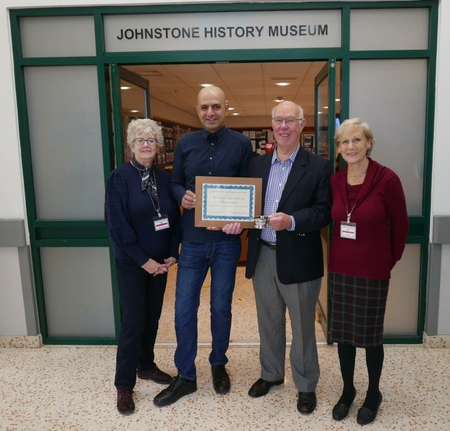 Johnstone History Museum Celebrates its 50,000th Visitor
Johnstone History Museum, which is located within the Morrisons store in Johnstone achieved a huge milestone the other day when it welcomed its 50,000th visitor through the door.
Tassum Shafiq, from Bridge of Weir, was welcomed by two of the Museum volunteers, Helen Bowie and Marlene Rogan. At an event organised to celebrate the occasion, Tassum was presented with a traditional Scottish Quaich and a commemorative Certificate by the Chairman of the Johnstone History Society, Iain Murray.
Iain reported that he was delighted to see the Museum achieve such an important milestone and thanked the whole team of volunteers who keep the whole show running. The Community Museum opened its doors in April, 2008, the year after the Morrisons store itself opened. Visitors come in from all over the world but it is also great to welcome locals who discover a lot about their own town for the first time. The Museum also hosts school groups and local interest groups for organised visits by arrangement.
When asked how it all came about, Iain stated that, "when the Supermarket was being planned, discussions were held between the Council planning department, Morrisons' Directors and members of Johnstone History Society, about the possibility of incorporating a purpose built Community Museum within the store. With financial help from the Heritage Lottery Fund the present facility came to pass.
"Johnstone History Society, owes a huge debt of thanks to the late Councillor John Kenny, the late Adam Lynch and his wife Janette who put in a huge amount of work to help create the Museum that we see in place today. The present team carry on the work they created".
The Museum contains a huge amount of information, photographs, historic documents, maps, memorabilia and industrial artefacts that chart the history of the town from February, 1782, when George Houstoun, the Laird of Johnstone planned the Town, to the present day.